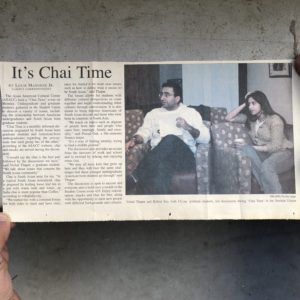 While we were studying at university back in 2006, we started a weekly campus gathering for students and professors called "Chai Time".  We'd get together in a group to discuss everything under the sun including politics, philosophy, books, food, culture and more.  We've always felt that chai allowed people to feel relaxed, to slow down from their daily lives and connect deeply through dialogue.
As the pandemic has upended lives across the world, we decided that it was the right time to bring Chai Time back to our community and chai lovers everywhere.  Over the past month, we have been hosting virtual Chai meetups on Zoom to connect with one another, learn more about culture and proper ways of brewing teas like chai, matcha and Turkish.  We've developed a virtual community of chai lovers across the country who want to learn, share, and listen.  Here are some of the conversations of previous Chai Time's in case you missed them.
How to Brew Chai with Dairy and Non-Dairy Milk
Vishal of Boston Chai Party taught everyone how to brew a proper cup of Indian Chai which includes adding fresh grated ginger into boiling water prior to adding chai masala, tea leaves and milk.  We also learned which non-dairy milks are are best for chai and when to use grated vs. powdered ginger.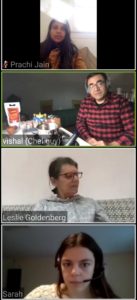 Tea Gardens 
Prachi of Boston Chai Party shared her recent travel experiences staying at tea gardens in South India. She discussed her newly gained appreciation for a cup of tea, having seen firsthand the tea production process as well as learning about how tea pickers labor away in 90 degree weather.  We also learned about fair trade tea, ethical tea consumption and organic products.
Food in Boston
We convened local small food businesses around Boston to discuss how small businesses are adapting to COVID-19. Business owners working with farmers and food startups predicted the changes that the pandemic would have on the food supply, consumer demand and accessibility to customers in the future.
Green Tea Brewing
One of our members taught us how to brew green tea by using the correct temperatures, tempering the bitter flavors and cultural traditions surrounding ceremonial teas. The group loved discussing how teas from around the world have evolved into American culture and what that means for authenticity.
Want to join or speak at one of our future Chai Time meetups?  Send us an email at chai@sahilp12.sg-host.com or simply join us on Zoom every Saturday at 11 AM EST through this link: https://partners.zoom.us/j/818104805
Can't make the meetings? Catch updates on Instagram and Facebook as we continue to post recorded sessions.
Looking to order our chai online?  Visit our online shop to get delivery throughout the United States.