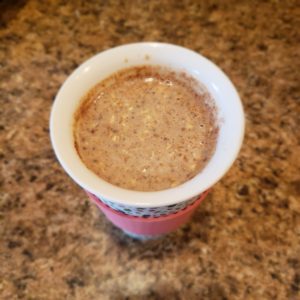 For many of us, working from home has become the norm and a routine that we have all gotten used to. One of the small joys we have found in this new routine is being able to experiment with new recipes using Boston Chai Party Chai Masala.  As the weather here in Boston has gotten colder, we've been craving more wholesome and nourishing meals. One of the reasons that chai masala is so great for fall baked goods and winter recipes is due to some of the warming spices it contains.  According to Ayurveda, spices like nutmeg, cinnamon, ginger and cardamom allow your digestion to heat up.  As we are more stationary when the weather gets cooler, these spices help us keep balanced and fired up.
We experimented with our Boston Chai Party concentrate (which is our ready-made chai masala liquid) that can be added to various recipes apart from chai.  Here is a recipe we have tested and loved for breakfast.  We've included the names of the brands we have used, but welcome you to try this recipe with any brands you have at home and love.
Chai Masala Overnight Oats Recipe
Ingredients:
1)1/2 cup of Oat Milk (brand Oatly)
2)2 spoons of Sweetened Vegan Vanilla Yogurt (brand Kite Hill)
3)2 spoons of Chia Seeds (brand Trader Joes)
4)3 spoons of Overnight Oats (brand Bob's Red Mill)
5)2 spoons of Boston Chai Party Chai Concentrate (brand Boston Chai Party)
6)Dash of Maple Syrup to taste (brand Trader Joes)
7)Fruit of choice (bananas, strawberries, blueberries all work well)
How to:
1)Put all ingredients together in a mason jar or bowl (except for the fruit), mix well with a spoon and cover with a lid
2)Let soak overnight for no more than 9-10 hours
2)Remove from the fridge at least 30 minutes before eating so that you are not eating a very cold breakfast on a very cold day.  Allow to warm up to room temperature.
3)Mix ingredients together again.
4)Top with fruit of choice and enjoy!
Test out this recipe and tag us at @bostonchaiparty so that we can see how you've adapted it to your taste.